Breastfeeding - nearly taboo 30 years ago and today all the rage! After seeing several totally adorable photos of nursing mothers lately, I want to capture the moment with my little one. Will it embarrass him when he's a big boy? Most likely, but what a lovely and fleeting moment to capture on film.
Miranda Kerr's nursing photos are being called sexy, I think they are a sweet depiction of a working mother (who happens to be a supermodel) making time for her little one between takes.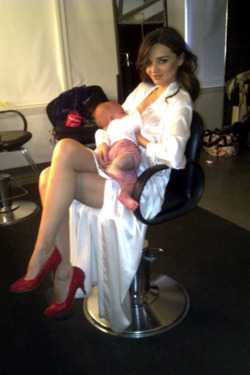 I've enjoyed Joanna Goddard's exploration of the subject of breastfeeding in private and public.
I love this vintage photo of her mother nursing Joanna or her sister (and her Clarks Wallabee shoes :)
Do you nurse in public? What do you think about nursing photos?